Previous
Product's advantages
smart'cook multifunction
Cook smartly every day
159,00 €
Out of order
Cook smartly every day
Cook for your entire family and friends thanks to the smart'cook multicooker MLCOOK10. The cooker can do anything and its 5 litres capacity will allow you to anticipate all your meals from starters to dessert.
Polyvalent, with its 19 automatic cooking programs you can prepare all your meals: stew, steam, soup, frying, baking oven, yogurt, jam, quick cooking, manual mode and more. Simply place your food in the container and the cooker takes care of the rest!
Adaptable, its temperature is adjustable from 35°C to 180°C and so is its cooking time from 2 minutes to 15 hours. Functional from beginning to end, you can also use its keep warm function, register a delayed start up to 24 hours in advance and launch
an automatic cleaning program.

Rediscover the good taste of easy to make cuisine!
caracteristics
Capacity: 5 L
19 automatic cooking programs: stew, steam, soup,
frying, baking oven, yogurt, jam, quick cooking, manual mode
Temperature: 35°C to 180°C
Cooking time: 2 min to 15 h
Automatic warm-up function
Delayed start function up to 24 hours in advance
Automatic cleaning program
Removable bowl with non-stick coating
Accessories: steam basket, measuring cup,
rice spatula and spoon
Power: 860W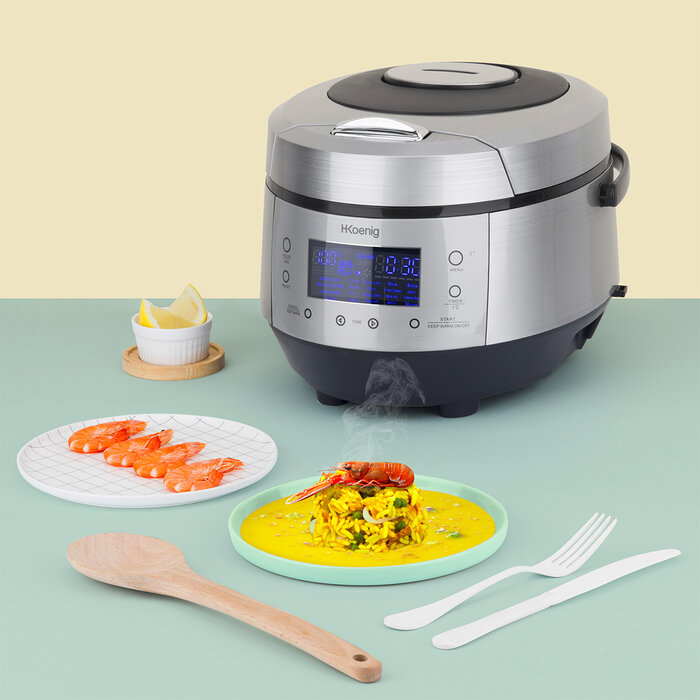 Product's advantages